Welcome to
Institute for Advanced Urology
We apply latest medical technologies to diagnose and treat variety of Urological conditions. We provide individualized care from conservative treatment to the latest surgical robotic intervention
.
.
.
.
.
.
.
.
.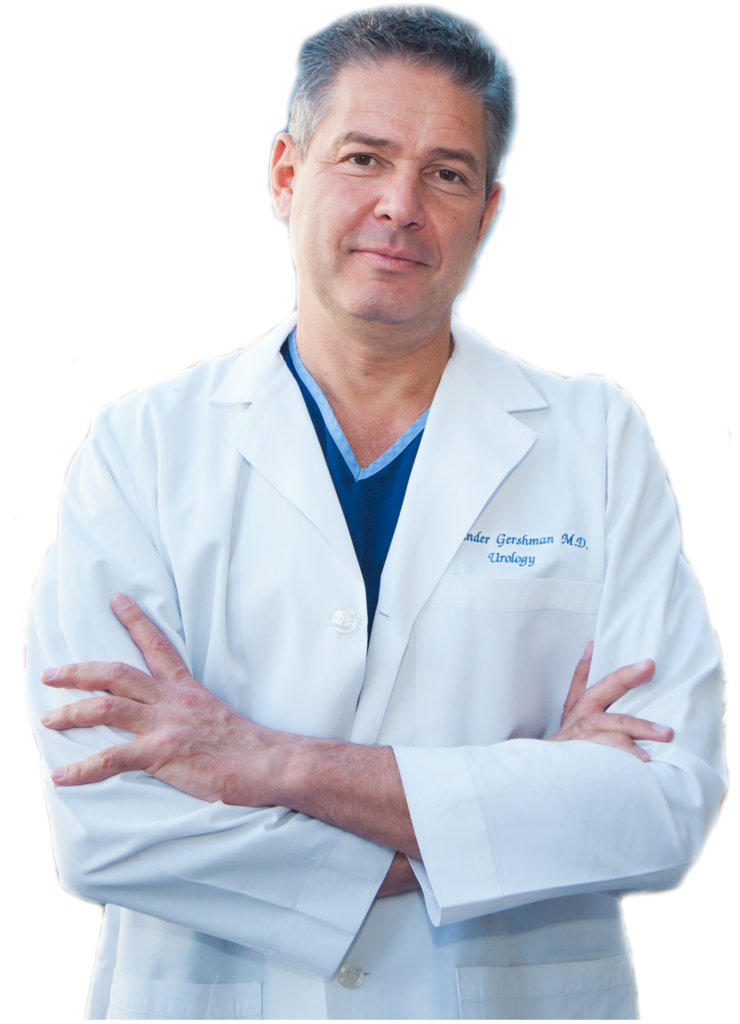 Dr. Alexander Gershman
Urologist
Alexander Gershman, M.D. is a Board-Certified Urologist. Dr. Gershman did his postgraduate training at University of California, Los Angeles (UCLA) School of Medicine, where he had successfully completed a residency program in Urology, as well as a fellowship in Endourology and Reconstructive Surgery.
In the 1990's, Dr. Gershman was a part of the international team of surgeons who worked on developing a new revolutionary approach to surgery, Laparoscopic Surgery.  He was one of the first surgeons in the world to apply the method of Laparoscopic Surgery and robotic-assisted surgery in the field of Urology.  He is considered to be one of the world's leading experts in the area of minimally invasive surgery.
Throughout the 25 years of practicing Urology,  Dr. Gershman taught hundreds of courses training other physicians in Laparoscopic Surgery. He was invited to lecture and perform surgeries in the capacity of a Visiting Professor to the medical institutions in the United Kingdom, Germany, Austria, the Netherlands, Canada, Norway, Russia, as well as many U.S. cities. 
Dr Gershman was invited to deliver keynote addresses at several American Urological Association annual meetings, the British Association of Urological Surgeons meeting, the World Congress of Endourology and ESWL.  In 1990 through 1993 he was the Clinical Instructor in Laparoscopic Surgery at Cedars-Sinai Medical Center. Dr. Gershman holds numerous academic appointments including the Assistant Clinical Professor at the UCLA School of Medicine, Department of Urology. He is a Clinical Faculty Member at the Harbor-UCLA Medical Center, Department of Urology.
Dr. Gershman is the author of over 20 published articles and over 50 published scientific abstracts on the subject of Laparoscopic Surgery and had contributed chapters on the subject of Surgery to several medical textbooks. Dr. Gershman had conducted numerous clinical studies and trials for major pharmaceutical companies, including GlaxoSmith Kline, Eli Lilly and Company, and Ingenix. Dr. Gershman was awarded numerous educational and research grants. Dr. Gershman was honored with the awards given by the Los Angeles Urological Society and the Solomon Scholars Resident Research Program.
Memberships
2002 American Russian Medical And Dental Association of Los Angeles, President

1993 American Urological Association, Member
1993 American Medical Association, Member

1993 Los Angeles Urological Society, Member

1991 International Society for Minimally Invasive Therapy,

1990 European Association for Endoscopic Surgery and Interventional Techniques
Institute for Advanced Urology.  After many years of teaching, researching, and conducting clinical studies in Laparoscopic Surgery around the world, Dr. Gershman had amassed a vast amount of knowledge and experience in the diagnosis and treatment of the whole spectrum of urologic conditions.  In 1999, he founded the Institute for Advanced Urology, a state of the art facility featuring a full range of modern diagnostic and therapeutic equipment, and an injections center.  Among the thousands of patients who Dr. Gershman had treated at the Institute for Advanced Urology are numerous Hollywood celebrities, famous musicians, and professional athletes.
Erectile Dysfunction. Dr. Gershman's approach is to develop an individualized treatment plan for each patient, based on the results of comprehensive diagnostic testing. Treatment may include a caverstem procedure, pharmacological therapies, hormonal stabilization, intracorporeal injections and reconstructive surgery.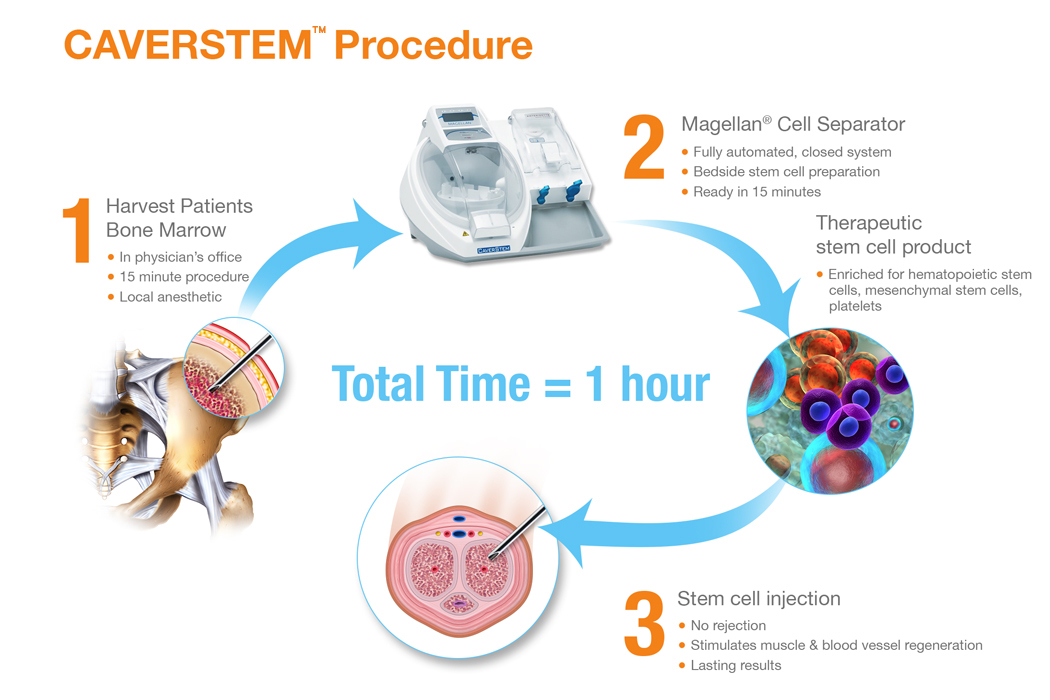 To Schedule CaverStem Procedure call: (310)623-1991

The CaverStem® procedure for treating ED uses cells from the patient's own bone marrow, the body's own natural source of stem cells, which are injected into the penis. Treatment with stem cell therapy is performed to restore the individual's ability to have natural erections. For men who do not benefit satisfactorily from using Viagra® or other first-line oral medications, stem cell therapy can revive erectile function and allow the individual to avoid second-line treatment options that are unnatural, invasive or irreversible.
Stem cells have healing properties to promote the growth and repair of damaged tissue throughout the body. Delivery of a concentrated source of stem cells directly into the penis allows for the full healing potential of these cells to be realized. Research has shown that stem cell therapy for treating ED can safely and effectively restore the areas of the tissue that absent or damaged, including smooth muscle, blood vessels, and nerves.

Benigh Prostatic Hypotrophy
Diagnosis:
Ultrasound, Uroflow,  Urodynamic
Treatment:
Medical and alternative therapy
TUMT, TURP, Green Laser
Robotic Open Prostotectomy
Diagnosis:
Duplex Ultrasound, Cavernosometry
Treatment:
Medical and Alternative Therapy
IC injections, MUSE
Penile implants
Diagnosis:
Ultrasound, CT scan
Treatment:
Medical and alternative therapy
Shock Wave Lithotripsy
Endoscopic Laser Stone Ablation
Diagnosis: PSA, Genetic Tests
CT, Bone Scan, MRI Prostate Biopsy
Treatment:Hormonal Treatment
Alternative Protocols
Robotic Prostatectomy
Targeted Radiation
Diagnosis:urine cytology, cystoscopy
Treatment: Superficial:
endoscopic resection, BCG, immunotherapy
Deep:robotic radical/partial cystectomy,neobladder
chemo – radiation therapy
Diagnosis: ultrasound, CT, MRI
Treatment:
Laparoscopic partial nephrectomy
Laparoscopic radical nephrectomy
Laparoscopic cryotherapy
Immunotherapy
Diagnosis:
ultrasound, blood markers
Treatment:
orchiectomy
laparoscopic RPLND
chemo- radiation
Conditions:vaginal prolapse,
cystocele, rectocele, enterocyte
Treatment:
trans vaginal reconstruction
laparoscopic sacro-spinal suspension
collagen injections
Diagnosis: urodynamic study
Treatment: medical therapy
biofeedback
slings, botox
collagen injections
artificial urinary sphincter
Emegency Care

24 hour
on call assistance
and hospital admissions
Expert Diagnostics

latest diagnostic equipment includes CT scanner, Ultrasound, Urodynamic, Video Endoscopy, Biofeedback, Sacral Nerve Stimulation
Superb Rehabilitaion

rehabilitation protocols for incontinence,
voiding dysfunctions and
post operative care
Make An Appointment
Did you know you can request an appointment online? Please fill our the appointment request form and we will confirm availability within 24 hours.