Welcome to
Institute for Advanced Urology
We apply latest medical technologies to diagnose and treat variety of Urological conditions. We provide individualized care from conservative treatment to the latest surgical robotic intervention
.
.
.
.
.
.
.
.
.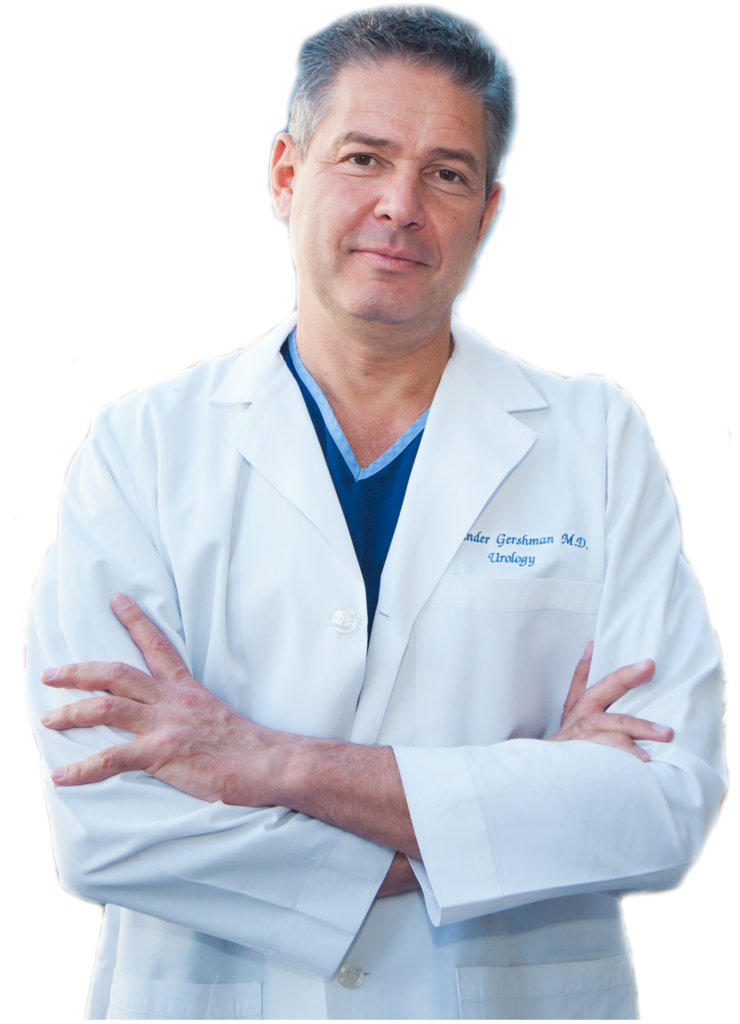 Dr. Alexander Gershman
Urologist
Dr. Gershman did his postgraduate training at UCLA School of Medicine in Los Angeles, CA, where he has successfully completed a residency in Urology and a fellowship in Endourology.
In 1990, while doing clinical research at Cedars-Sinai Medical Center in Los Angeles, Dr. Gershman was among a group of surgeons who were at the forefront of developing a new revolutionary surgical technique, Laparoscopic Surgery. He was one of the first surgeons in the world to apply laparoscopic method to Urologic surgery becoming a recognized expert in the field of Minimally-Invasive Surgery.
In the past 25 years Dr. Gershman has taught hundreds of courses training other physicians in Laparoscopic Surgery. He was invited to lecture and perform surgeries in the capacity of a Visiting Professor to medical institutions in the United Kingdom, Germany, Austria, the Netherlands, Canada, Norway, Russia, as well as many U.S. cities. Dr. Gershman is the author of numerous published scientific articles and abstracts. He co-authored several textbook chapters.
Today Dr. Gershman divides his professional time between a busy private practice and various academic endeavors.
CURRENT HOSPITAL AND ACADEMIC APPOINTMENTS:
Voluntary Assistant Professor, Dept. of Urology, UCLA Medical Center, Los Angeles, CA
Director of Urologic Laparoscopy, Harbor-UCLA Medical Center, Torrance, CA
Benigh Prostatic Hypotrophy
Diagnosis:
Ultrasound, Uroflow,  Urodynamic
Treatment:
Medical and alternative therapy
TUMT, TURP, Green Laser
Robotic Open Prostotectomy
Diagnosis:
Duplex Ultrasound, Cavernosometry
Treatment:
Medical and Alternative Therapy
IC injections, MUSE
Penile implants
Diagnosis:
Ultrasound, CT scan
Treatment:
Medical and alternative therapy
Shock Wave Lithotripsy
Endoscopic Laser Stone Ablation
Diagnosis: PSA, Genetic Tests
CT, Bone Scan, MRI Prostate Biopsy
Treatment:Hormonal Treatment
Alternative Protocols
Robotic Prostatectomy
Targeted Radiation
Diagnosis:urine cytology, cystoscopy
Treatment: Superficial:
endoscopic resection, BCG, immunotherapy
Deep:robotic radical/partial cystectomy,neobladder
chemo – radiation therapy
Diagnosis: ultrasound, CT, MRI
Treatment:
Laparoscopic partial nephrectomy
Laparoscopic radical nephrectomy
Laparoscopic cryotherapy
Immunotherapy
Diagnosis:
ultrasound, blood markers
Treatment:
orchiectomy
laparoscopic RPLND
chemo- radiation
Conditions:vaginal prolapse,
cystocele, rectocele, enterocyte
Treatment:
trans vaginal reconstruction
laparoscopic sacro-spinal suspension
collagen injections
Diagnosis: urodynamic study
Treatment: medical therapy
biofeedback
slings, botox
collagen injections
artificial urinary sphincter
Emegency Care

24 hour
on call assistance
and hospital admissions
Expert Diagnostics

latest diagnostic equipment includes CT scanner, Ultrasound, Urodynamic, Video Endoscopy, Biofeedback, Sacral Nerve Stimulation
Superb Rehabilitaion

rehabilitation protocols for incontinence,
voiding dysfunctions and
post operative care
Make An Appointment
Did you know you can request an appointment online? Please fill our the appointment request form and we will confirm availability within 24 hours.